Congratulations to Ginger Burks Draughon upon receiving her Ph.D. on December 4, 2020!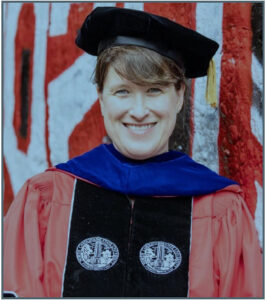 When Ginger '20PHD enrolled in the NC State College of Education to earn a Ph.D. in higher education, she was a single, working professional. During her eight-year journey to earn her degree as a part-time student, she has since gotten married and had two children as she balances family, full-time work and her education.
Her own experiences as a part-time student and director of the Office of Cost Analysis at NC State inspired her dissertation research and she hopes to use what she has learned to influence educational policy surrounding part-time students.
Ginger's degree is a Doctor of Philosophy in Educational Research and Policy Analysis with a specialization in Higher Education Administration. She also holds a Bachelor's degree from UNC-Chapel Hill (BA in Political Science and History) and a Master's of Public Administration from the University of Georgia.
During the same semester in 2012 that Ginger started taking courses at NC State, she had the opportunity to join the staff in the Office of Finance and Administration (OFA). Working at the system office with all of the UNC institutions had allowed her a chance to get to know people and operations across the state system. Ginger says she had developed a great respect for people who work in OFA at NC State and she appreciated the opportunity to become a part of the great team. We feel honored to have Ginger on our OFA team.
After joining the staff at NC State and taking courses as a non-degree seeking student, she decided to take the GRE again and apply to the program officially. During the 6 years since her official enrollment in the program, she also got married to her husband Kelvin, and they have two children. Her life has been very full and busy as a full-time employee, part-time student, wife, and mom.
Her dissertation topic actually came out of some of her work as both an employee and experiences as a student. It is titled "We See You": Policy Supports and Barriers for Part-time Undergraduate Students. Ginger was fortunate enough to interview students and administrators at another university who shared with her their perspectives for Ginger's research study. Ginger hopes that in some small way her work contributes to our understanding of how policies can help or impede degree progress for students who are enrolled part-time. Link to her dissertation: https://repository.lib.ncsu.edu/handle/1840.20/38383
Budget & Resource Management is so fortunate to have Ginger on our team!